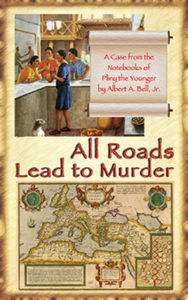 First-century Smyrna comes alive as the scene of a horrific murder. Pliny the Younger, Tacitus, and Luke, travelers in a caravan bound for Rome, become investigators when no Roman magistrates are available. Suspects abound: gamblers, arcane priestesses and Christians. What is the secret of one of the victim'ss own slaves, a beautiful blond, and the German giant shadowing her?
Only $2.99 on Kindle, Nook, & Kobo!
Only $11.95 in paperback!

Save