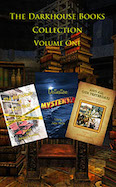 The Darkhouse Books Collection
Volume One
Complete in one volume, three anthologies of crime stories – perfect for summer reading!
The Anthology of Cozy-Noir – Stories that dwell in the intersection of cozy and noir crime.
And All Our Yesterdays – Stories of mystery and crime through the ages.
Destination: Mystery! – A cozy collection of crime capers set in popular vacation places.

Free for Kindle Unlimited Members!
Save
Save