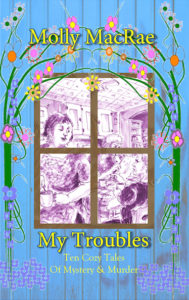 Southern sisters Margaret and Bitsy have been entertaining mystery readers since 1990. Seven of their stories appeared first in Alfred Hitchcock Mystery Magazine.
The sisters live in Stonewall, Tennessee, in the foothills of the Blue Ridge Mountains, where Margaret owns and runs a bookstore.
Bitsy's inclination to butt in and either wrest control or wreak havoc keeps Margaret contemplating rules for living, such as "lock all doors and windows anytime you see Bitsy coming."
Only $1.99 on Kindle, Nook, & Kobo!
Only $9.95 in paperback!

Save
Save
Save
Save
Save