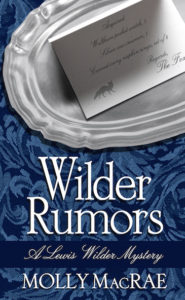 By Molly MacRae, author of the Haunted Yarn Shop Mysteries
All Lewis Wilder wants to do is take care of his museum of local history, but crime is on the rise in his small town, and being the newcomer, suspicious eyes are turning in his direction.
Only $2.99 on Kindle, Nook, & Kobo!
Only 12.95 in paperback & $1.99 on Audible!

Save
Save
Save
Save
Save
Save
Save
Save
Save
Save
Save
Save
Save