Descansos – Words from the Wayside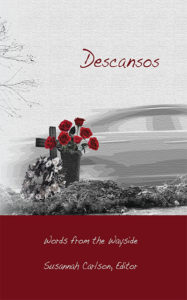 Descansos mark the moment when an intended journey took an unintended detour. They draw the gaze to a stranger's last vista—to feel the very end, and sometimes even what comes after.
Descansos is an anthology of poetry, flash fiction, essays, and short stories that pull over by the roadside and gaze into the distance through the eyes of dead strangers and the hearts of those who remember them.
– Susannah Carlson, Editor

Featuring Poetry, Flash Fiction, Short Stories, and Essays By:
Jesse Sensibar, Terence Kuch, Cate McGowan, Armine Mortimer, Tyson West, Richard King Perkins II, Terresa Cooper Haskew, D. Dina Friedman, Frank Russo, Amber Colleen Hart, Brian Morgan, Ivan Faute, Ellaraine Lockie, Kurt Newton, Jon Black, Lita Kurth, C.A. Cole, Kevin Wetmore, Woody Woodger, Diana Brown, Jonathan Ochoco, Teressa Rose Ezell, Nick Bouchard, Fred Zackel, Dave Holt, Nicole Scherer, Nancy Brewka-Clark, Jack Mackey, John Z. Guzlowski, Scot Friesen, Pamela Ahlen, Catherine A. Lee, Mary Silwance, Hal Ackerman, Jackie Davis Martin, Karen Bovenmyer
Only $11.95  in paperback! Only $2.99 for eBook!
Save
Save
Save
Save
Save
Save
Save
Save
Save
Save
Save
Save
Save
Save