Sanctuary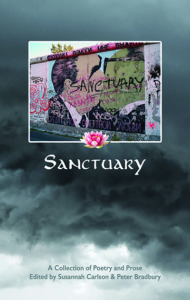 The fifty pieces of poetry and prose that comprise the book explore its theme from angles direct and oblique, political and comical, religious and secular, all bound together at the nexus of desperation and salvation that is Sanctuary.
– Susannah Carlson, Editor

Featuring Poetry, Flash Fiction, Short Stories, and Essays By:
Charlotte M. Porter, Scott Archer Jones, Nancy Cook, Max Sparber, Aileen Bassis, Gabriella T. Rieger, Kathleen McClung, Emily Vizzo, Ellaraine Lockie, Leslie Muzingo, Ariadne Wolf, Kurt Newton, John M. Floyd, Edison Jennings, Rikki Santer, James Penha, Atar J. Hadari, Nick Bouchard, Gina L. Grandi, Caroline Taylor, Nancy Scott, Mark Fitzpatrick, Jory Mickelson, Lana Bella, Sarah Brown Weitzman, Jennifer Stuart, Gayla Mills, Laurence Jones, Ed McCourt, Rick Holinger, Michelle S. Myers, Lita Kurth, Allen X. Davis, Bernardine (Dine) Watson, Phillip Bannowsky, Alice Morris, Pamela Ahlen, Joyce Kryszak, Jesse Falzoi, Laura Foley, Rick Kempa, Kersten Christianson, Charlotte Platt, Sage Kalmus
Only $14.95  in paperback! Only $2.99 for eBook!

Paperback ISBN: 978-1-945467-12-7
eBook ISBN: 978-1-945467-13-4