Duck Lessons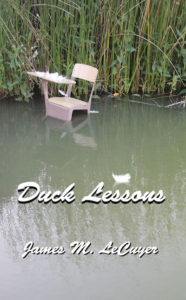 "LeCuyer's stories, all beautifully written, are at once funny and poignant. He writes like an angel with a devilish grin.  Get ready for a delightful evening."
– Richard Michael Levine, author of the bestselling nonfiction book, Bad Blood: A Family Murder in Marin County, as well as the short story collection, The Man Who Gave Away His Organs: Tales of Love and Obsession at Midlife.
There are so many wonderful things about these stories: humor, interesting characters, intriguing plots, and poetic descriptions. I hope many people will read this book.
– Lucy Lang Day, author of Married at Fourteen, The curvature of Blue, Dreaming of Sunflowers, and many more.
Only $11.95  in paperback! Only $2.99 for eBook!