A Murder of Crows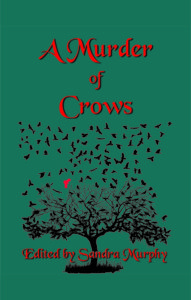 A Compendium of Cozy Crimes
Featuring Collective Nouns of Animals!

Featuring stories by (in order of appearances)
Jack Bates, Michael Bracken, Jeanne DuBois, Kaye George, EJ McFall, Kari Wainwright, John M. Floyd, Heidi Hunter, Jacqueline Seewald, Kathryn Gerwig, Earl Staggs, Marianne Wilski Strong, Damien Mckeating, C.A. Fehmel, Linda Kay Hardie, Helen O'Neill, Shielia J. Rizer, Maddi Davidson, Denise Johnson, Sandra Murphy, J.B. Toner
Only $12.95  in paperback!
Only $2.99 for eBook!

Paperback ISBN: 978-1-945467-19-6
eBook ISBN: 978-1-945467-20-2