What We Talk About When We Talk About It

What is love, anyhow? You can love your partner, your friend, your country, your dog, cat, rat, your local library, your family, yourself. You can love money, liquor, food, wilderness, or the dive bar on the corner. What does love make people do? What will people give for it? What will they steal?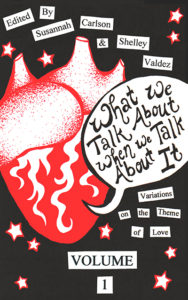 What We Talk About When We Talk About It is a literary exploration of the myriad faces of this powerful four-letter word.
Poetry and prose by:
Kelly Magee, Sage, MeeRee Orlandini, Erika Rasmussen, Anonymous, Woody Woodger, Lisa Dordal, Lawdenmarc Decamora, Lisa López Smith, Richard Weems, Lorna Wood, Sharon L. Charde, Alexis Rhone Fancher, Kacie Berghoef, Mel Carlson, Amanda Moore, Shelley Valdez, Jenn Richter, J. White, Claire Hawkins, Ali Abbas, Sean Finucane Toner, Emily Rapp Black, Isabelle Jia, Jackie Craven, Winter Ross, Marian Armstrong Rogers, Rebecca Pilling, Susan Cummins Miller, Thomas Kearnes, Kate Hodges, Laura Lee Washburn, James Penha, Timothy O'Leary, Evan Balkan, D. Dina Friedman, Kate Larsen, Susannah Carlson, Carly Gates, Beth Konkoski, Sarah Russell, Bill Stenson, Alison Stone, Pamela Balluck, Daniel Loring Keating, Flo Golod, Ivan Faute, Melanie Bell
Only $14.95  in paperback!
Only $3.99 for eBook!

Paperback ISBN: 978-1-945467-21-9
eBook ISBN: 978-1-945467-22-6