Mid-Century Murder

Return with us now to those thrilling days of yesteryear!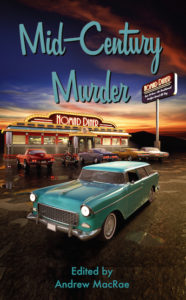 Featuring stories by:
Michael Bracken & Sandra Murphy, Kaye George, John M. Floyd, Margaret S. Hamilton, Diane Arrelle, William J. O'Connor III & Arthur Vidro, Camille Minichino, Albert Tucher, Karen Keeley, Herschel Cozine, M.M. Elmendorf, Michael Allen Mallory, Michele Bazan Reed, Kenneth Gwin, DG Critchley, Adam Beau McFarlane, Lisa Lieberman, Mel Goldberg
Only $12.95  in paperback!
Only $2.99 for eBook!

Paperback ISBN: 978-1-945467-23-3 (Amazon)
Paperback ISBN: 978-1-945467-25-7 (Ingram)
eBook ISBN: 978-1-945467-24-0 (Kindle, Nook, Kobo)